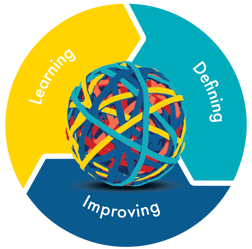 What you'll find inside.
The guide has been designed as an introduction to the Learning Teams method and is intended to be used by those with a foundational understanding of Human & Organisational Performance (HOP).
It covers useful topics including:
The purpose of Learning Teams

When (and when not) to use them

Learning Teams structure

Who's involved?

Outcomes and next steps, and

Suggestions for starting the Learning Teams approach
Get the guide.
Enter your details to get the free PDF guide emailed to you.
Before you start.
Southpac's Learning Teams Guide can also be a useful resource for sharing with your teams or leadership when discussing how HOP could benefit your organisation. Learning Teams are a great place to start with HOP, but it's important to have a plan for how your organisation will embrace operational learning and move towards new view thinking.

Introducing Learning Teams into an organisation or team that is not ready to hear how work is really done can be a more damaging exercise than a helpful one. Reach out for a chat with us if you are in the early stages of HOP, or check out our Learning Teams Pilot.
Got a question? Get in touch.